2018 is proving why Ferrari were never interested in signing Romain Grosjean
In the fourth fastest car on the grid at some events in 2018 and a car capable of scoring points at most races, Romain Grosjean has yet to register a point so far this season. ---
The 2018 Formula One season has been a complete nightmare for Haas' Romain Grosjean so far. The American owned team are far more competitive than they were last year – but their French driver has failed to deliver. Let's take a look below at how his year has gone to this point.
Australia
Haas showed really good pace at the final pre-season test at Barcelona and they carried that speed to Albert Park. A brilliant qualifying saw them 5th and 6th on the grid. Grosjean was narrowly pipped by Magnussen. The race seemed to be going smoothly – but a lap after K-Mag retired because of a loose wheel, the same fate struck Romain. It cost him a certain top 6 finish on a heartbreaking day for the team.
Points lost: 8
Bahrain
Saturday was a total disaster for Romain at Sakhir. While Magnussen made Q3, the French driver was dumped out in the opening segment – over 0.9s slower than his Danish stablemate.
The Sunday of this event wasn't any better. Grosjean's lack of pace and going through the tyres at a rapid rate forced him to stop three times in the race. He ended up 15th on a weekend where the car had the pace for points.
China
Unlike Australia and Bahrain, Haas was on the fringes of the top 10 at the Shanghai International Circuit. Grosjean finally beat his team-mate in qualifying and lined up P10 on the grid.
However, it became another Sunday to forget. Forced to let Magnussen through in the opening stages of the Grand Prix, he was also on a poor strategy as Haas made a big mistake not pitting him while the Safety Car was on track. He had used ultrasofts in the first two stints and needed to pit to run one of the other compounds anyway. What could have been a 10th or 11th place finish turned into a disastrous P17.
Azerbaijan
A horrible season continued to go south for Grosjean on the high-speed street circuit in Baku. Qualifying was a total disaster and a gearbox problem in Q1 meant he started at the back of the field for Sunday's race.
Nonetheless, he got through the first lap that was full or carnage, overtook some cars – and following the collision between the Red Bulls, he found himself in a brilliant P6 during the Safety Car period. Amazingly, though, he crashed behind it while trying to warm up his tyres and lost a huge haul of points. A great drive through the field ruined by a rookie mistake. Bottas' late tyre failure cost him an almost certain P5.
Points lost: 10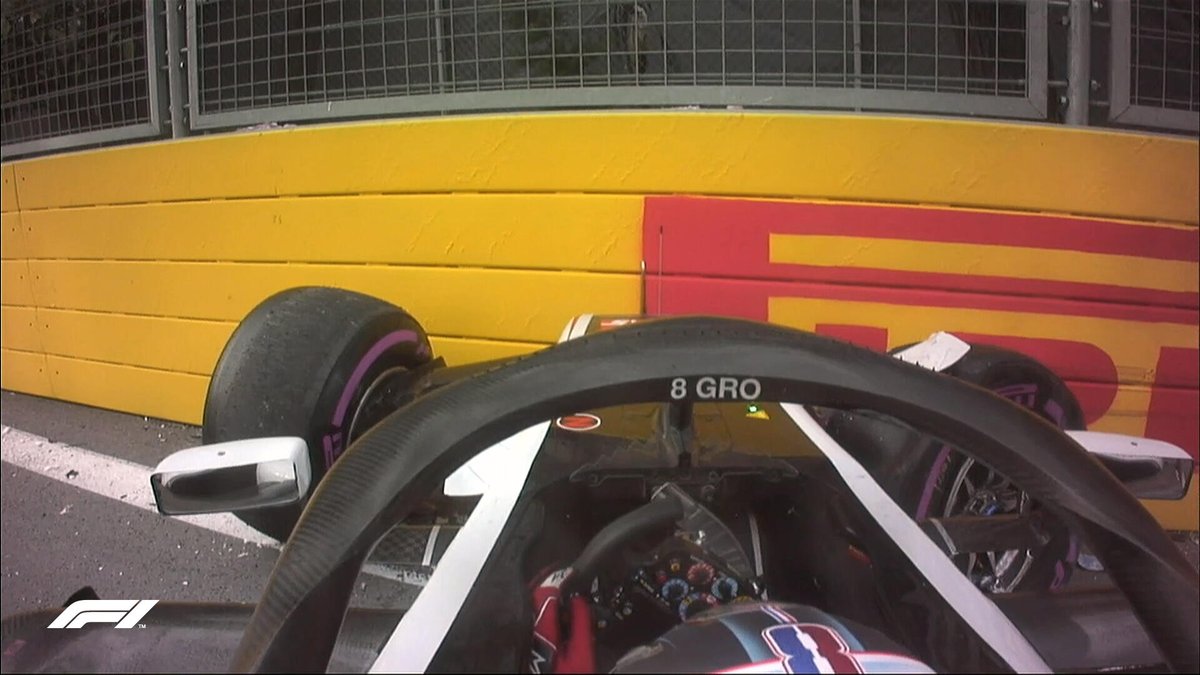 Spain
Just when you think the Frenchman couldn't go and make things worse for himself in 2018, he did exactly that at the Circuit de Catalunya. A bad Q3 left him down in P10 after matching Magnussen in Q2 during qualifying.
An excellent start put him right on the gearbox of his team-mate – but in the dirty air of the Dane's car, he dropped it and spun. He tried to keep his foot buried but that put him into the path of other cars. Both Hulkenberg and Gasly couldn't avoid him and it was game over for all three men. Grosjean received a three-place grid penalty for Monaco following the incident.
Haas was comfortably the fourth quickest team at the Spanish Grand Prix, but thanks to Grosjean's poor mistake, the Frenchman threw away valuable points for himself and his team once again.
Points lost: 6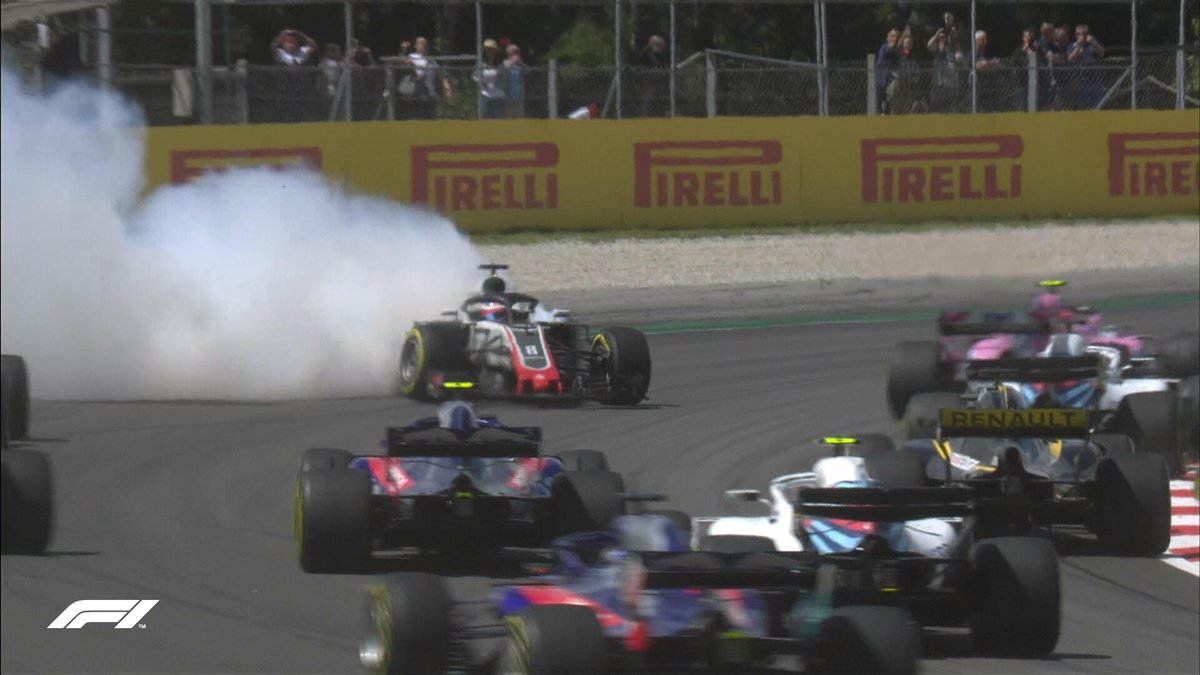 Monaco
Last weekend around the streets of Monte Carlo, Haas didn't have the raw pace to fight for points for the first time during the 2018 season. So, Grosjean didn't mess up a chance to score points on this occasion. Yet, he still had a poor weekend overall. Credit to the Frenchman, he did a good job to make Q2 as Magnussen was knocked out in the first part of it.
His race was really bad, though. Jumped by his Danish team-mate and Verstappen on the opening tour of the race, it left him rooted at the back of the 20-car pack. A complete lack of race pace saw him finish ahead of the Williams only – P15 and 35 seconds behind Kevin Magnussen in the same package.
Points lost overall in 2018 at present: 24
Have Ferrari ever had any interest in Grosjean?
The answer is highly likely to be no. All the big words about driving for Ferrari have come from the mouth of the French driver.
Following his decision to move from Lotus to Haas for 2016, he told the Sky Sports F1 website the following in late 2015: "If l am in F1, it is to try to be a world champion one day and l felt that going to Haas was the best way of achieving that goal in the near future. I think my best years are still to come. You create your luck. You try to put everything you can in place and the luck normally comes with it. The more opportunities you create, the better it is. Ferrari would be a dream in the next couple of years. Is it two years, or three years, or four years? I don't know. But I would like to drive for Ferrari before the end of my career."
He repeated that message last year too: ''If there is an opportunity, a seat with them then I believe I am in a good position but it doesn't necessarily mean anything."
The reality is Romain's best chance of finding a seat at Ferrari or a top team would have been for the 2014 season. Following on from his horrendous year in 2012 when he was involved in several first lap crashes; he turned it around and in the second half of 2013 and consistently outperformed Kimi Raikkonen, although the Finn was having back issues and a money dispute with Lotus.
Along with Mark Webber at Suzuka, Grosjean was the closest to ending Vettel's streak of nine wins at the end of that year. However, not winning a race in the Lotus that was capable of winning multiple races across 2012 and 2013 meant he never had a chance of claiming a Ferrari seat.
For sure Grosjean can be very, very quick on his day and one of the best in the sport – but those days are far too rare. Overall, he's too inconsistent pace wise and makes too many silly mistakes to be considered by the likes of Ferrari or Mercedes. His constant chirping on the radio about problems with his brakes or the car doesn't help either.
Is he under pressure to retain a drive in Formula One?
Following on from his last points score at the 2017 Japanese Grand Prix, Grosjean has been soundly beaten by Kevin Magnussen; and the burden of not scoring points and getting beaten comfortably by your stablemate continues to grow and grow on the French driver. Below are the stats of the eight events since Grosjean last scored points at Suzuka last year.
Magnussen v Grosjean (USA 2017 – Monaco 2018)
Qualifying: 6-4
Points: 23-0
As clearly shown above, Grosjean has thrown away 16 points thanks to very costly errors in Spain and Azerbaijan this year up to now. He's also been second best so far to Kevin Magnussen this year. The Dane sits 10th in the standings, while Grosjean is all the way down in 19th.
With six previous full seasons of F1 under his belt, the errors Grosjean has been making are simply unacceptable and if it continues, one wonders if Haas will decide not to keep him in their team for 2019. The pressure is well and truly on the Frenchman to stay in F1 next year.