Comparing the dominant eras of Schumacher, Vettel and Hamilton
So far in the 21st century, we've seen three different teams have long periods of supremacy: Ferrari, Red Bull and Mercedes. Which of them has been the most dominant? Let's take a look below.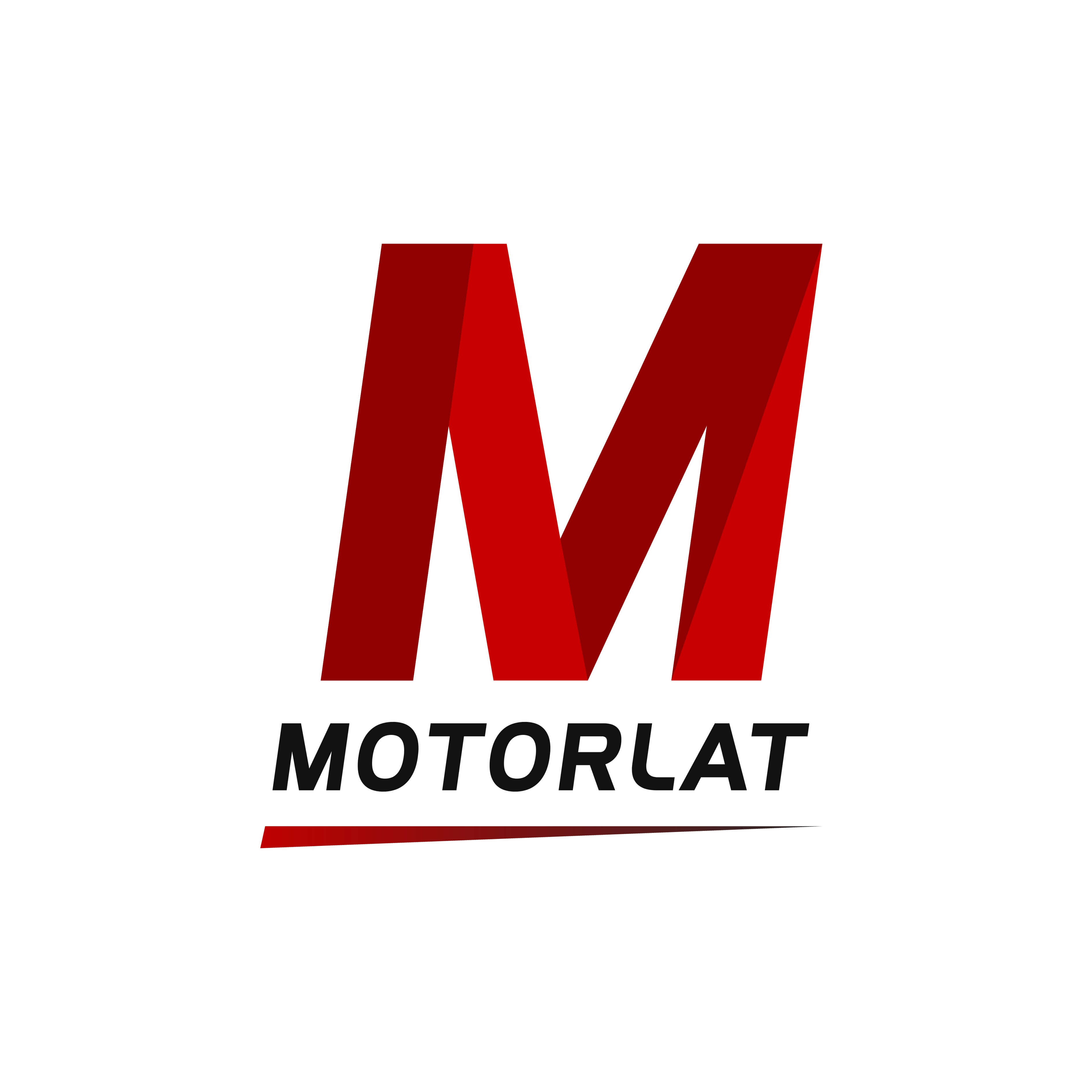 ---
After Lewis Hamilton sealed his fifth drivers' title in Mexico, a Mercedes driver has won the drivers' championship five years in a row now. They also look set to win a fifth straight constructors' championship in Brazil.
This puts the Brackley based team right up there with the Schumacher/Ferrari and the Vettel/Red Bull eras in terms of championships and superiority over the opposition.
Schumacher and Ferrari (2000-2004)
Despite the German missing five races in 1999 following the crash at Silverstone that broke his leg, Ferrari managed to claim the teams' title from fierce rivals McLaren. It was a story of things to come...
Over the course of the first five years of this current century, it was all about the Italian team and their German driver. They swept up all 10 championships available and left a big mark on the sport. Yet, it wasn't as easy as many people think or say it was.
In 2000 and 2003, the drivers' titles almost went to Hakkinen and Raikkonen.
With four races to go in 2000, Schumacher trailed his Finnish rival by six points, after Hakkinen pulled off that stunning move to take victory from the German in the closing stages at Spa.
However, Schumi secured the championship at the penultimate round at Suzuka. He won the last four races of the season to take the crown and his first for Ferrari. It was a see-saw between the titans of the sport and if Hakkinen had better reliability, the championship could well have ended up with him.
2003 gave us an even closer contest. Eight drivers won a Grand Prix (including three first-time winners) in a sensational season full of thrilling races, as Montoya and Raikkonen came very close to disposing Michael Schumacher of a fourth straight championship.
The title ended up being decided at the final round at Suzuka. Schumacher squeaked home in 8th place to beat Kimi Raikkonen by just two points in the standings.
That season was by far the hardest year for the Italian team in their very successful era. 8 poles and wins from 16 events (50%) tells us how hard they were pushed.
Nonetheless, the fact is Michael did win five consecutive titles – and he destroyed the field in 2002 and 2004.
In their most successful year for race victories in 2002, Ferrari won 15 of the 17 races (88.24%) in a totally one-sided affair. In terms of most pole positions in a single season from this era, it was 12 from 18 in 2004 (66.67%).
Schumacher's best year was in 2004 when he set a record-equalling 13 wins over the course of a single season (72.22%). He collected 12 of those 13 wins in the first thirteen races of that year. It was a massive spell of dominance by the team and car in his final title-winning season.
Ferrari and Schumacher's overall record
Pole positions: 51/85 - 60.00%; Schumacher: 40/85 - 47.06%
Wins: 57/85 - 67.06%; Schumacher: 48/85 - 56.47%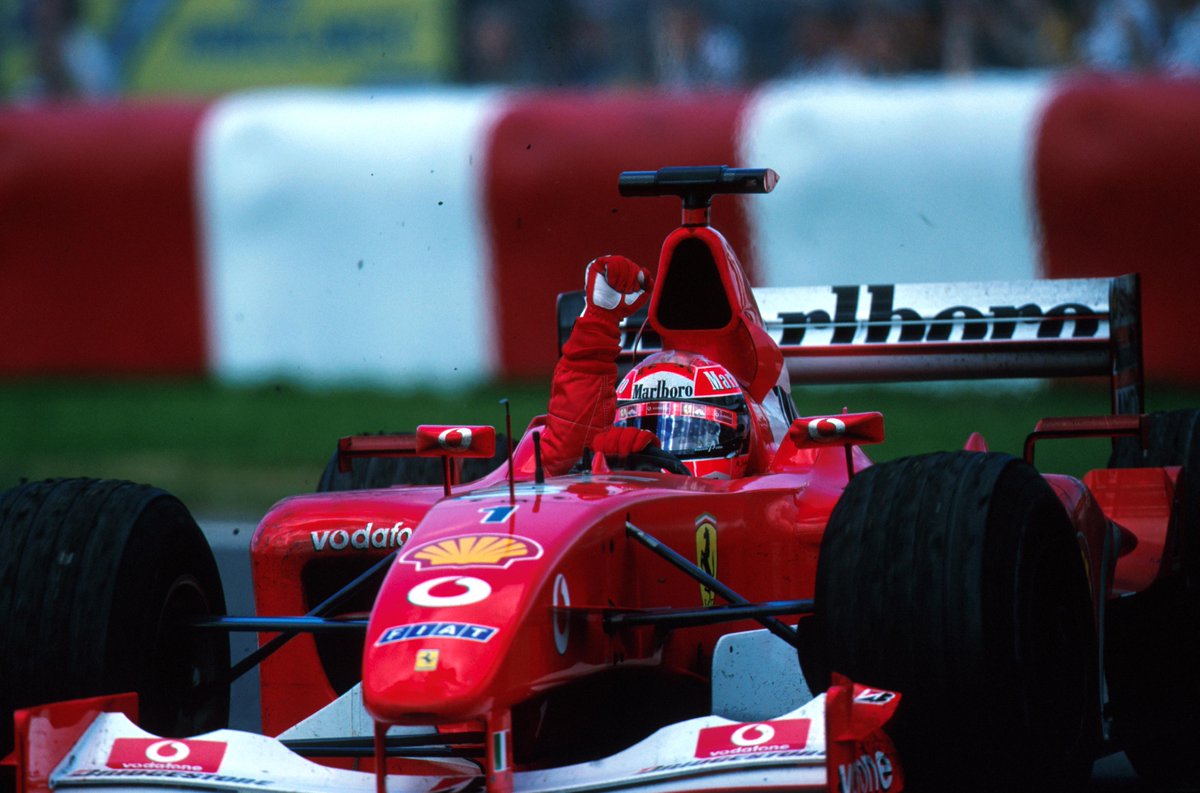 Vettel and Red Bull (2010-2013)
Following the crowning of new champions in 2007, 2008 and 2009, Sebastian Vettel added to that list in 2010. The German then hit a hot streak and added three more titles from '11-'13. Yet, it was far from the easy for him.
Again, like Schumacher, he got pushed all the way for two of his championships by drivers from other teams.
In 2010, it was Alonso, Hamilton and for this one, his stablemate Mark Webber, too. Red Bull had a very dominant car on a Saturday afternoon – but on a Sunday, the gaps usually closed.
Various reliability problems throughout the season for the German gave us that tense, thrilling season-finale at Abu Dhabi as he claimed the title by 4 points from Alonso. With only two races left, he trailed Alonso by 25 points and found himself P4 in the standings. It would be a remarkable turnaround to conclude an amazing year of racing.
2012 saw Vettel facing Alonso for the title. A crazy, classic season saw eight different winners like 2003, with the German coming out on top by 3 points this time. For the second time in three seasons, he beat Alonso by a slim margin to claim the title.
Of the four seasons, this was by far the toughest for Vettel and Red Bull. Just 8 poles from 20 (40.00%) and 7 wins out of a possible 20 (35.00%) showed the close fight they were involved in.
However, just like Ferrari and his hero did in the early part of this century, Sebastian Vettel and his Red Bull team enjoyed two seasons of big dominance in 2011 and 2013.
2011 saw the team secure 18 of a possible 19 poles (94.74%) over the course of that season.
Vettel most successful year in terms of wins came in 2013 with 13 (tied for the record with his idol Michael) from 19 races (68.42%) – including nine in a row at the end of the year.
Red Bull and Vettel's overall record
Pole positions: 52/77 - 67.53%; Vettel: 40/77 - 51.95%
Wins: 41/77 - 53.25%; Vettel: 34/77 - 44.16%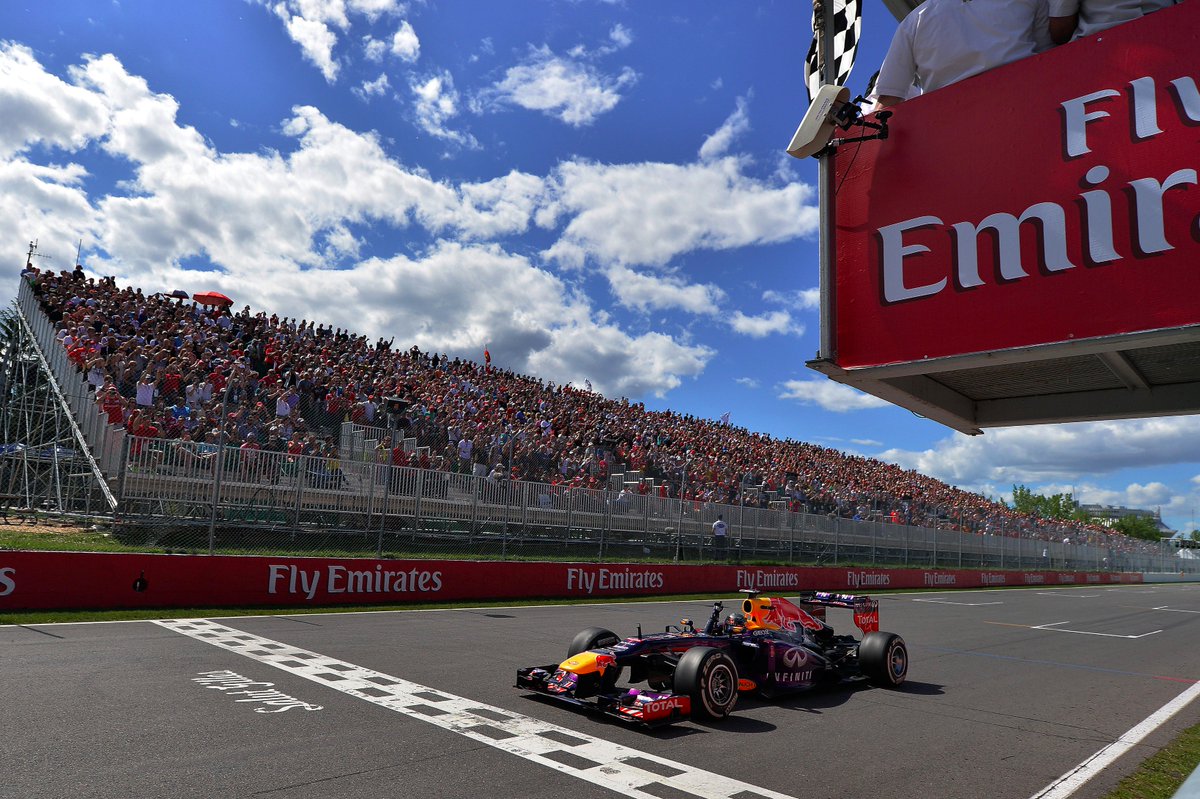 Hamilton and Mercedes (2014-2018) *up to and including Mexico 2018
We all hoped that the massive changes for 2014 would close the field up and we'd seen an end to one team ruling on the sport. Instead, we've seen more domination by a different team. That team has been Mercedes. Their statistics in the V6 era are quite extraordinary.
The 2014 (94.74%), 2015 (94.74%) and 2016 (95.24%) seasons saw them only get beaten on three occasions to pole position across those three years. A quite remarkable reign of supremacy and it shows the advantage they had over the rest.
Thankfully, Mercedes let Lewis Hamilton and Nico Rosberg race or it would have been extremely boring to watch. We got some amazing battles like Bahrain 2014 which put everyone on the edge of their seats. The 2014 and 2016 title duels between Hamilton and Rosberg went to the final round which kept things interesting.
Of course, with the team allowing them to race, there were controversial moments, too. Belgium 2014 and Spain 2016 spring to mind...
Still, it was a totally commanding period from the German manufacturer. An astonishing 19 wins from 21 (90.48%) events in 2016 is the second highest winning percentage for a single season in the history of the sport.
In reality, Mercedes had a big advantage over the opposition from 14'-16' and almost never unleashed their full potential.
The possible exception to this was the 2014 Bahrain Grand Prix. After a Safety Car bunched the pack up, the Silver Arrows pulled out 24 seconds on the field in the final 11 laps – and that doesn't even factor in the fierce battles they had.
Finally, another team has taken it to them in the last couple of years in the shape of Ferrari. Yet, Mercedes retained both titles in 2017 and Hamilton wrapped up the drivers' championship in Mexico for the second year in a row yesterday.
The Brit's brilliance has really shone through this year and combined with a brilliant team, they've seen off the mighty challenge from Vettel and Scuderia Ferrari. As well as that, errors from both the German and his team mean the drivers' crown won't be decided in Brazil or Abu Dhabi.
This year's stats prove how difficult a campaign it has been for Mercedes and shows this has been the toughest year for them in the V6 era so far. They've got 11 out of a possible 19 poles (57.89%), with 'only' 9 victories from 19 events (47.37%). Even still, they wrapped up the drivers' title with three races left and that's the latest it's gone against another driver/team in the V6 era.
Hamilton's most successful year in this period of superiority came in 2014 with 11 wins from 19 starts (57.89%). You could say unlike Schumacher and Vettel, he had to race Nico Rosberg on equal terms for a number of seasons – and this would be an important factor as to why he hasn't won as many races as the German duo in a single season.
Mercedes' and Hamilton's overall record
Pole positions: 82/98 - 83.67%; Hamilton: 50/98 - 51.02%
Wins: 72/98 - 73.47%; Hamilton: 49/98 - 50.00%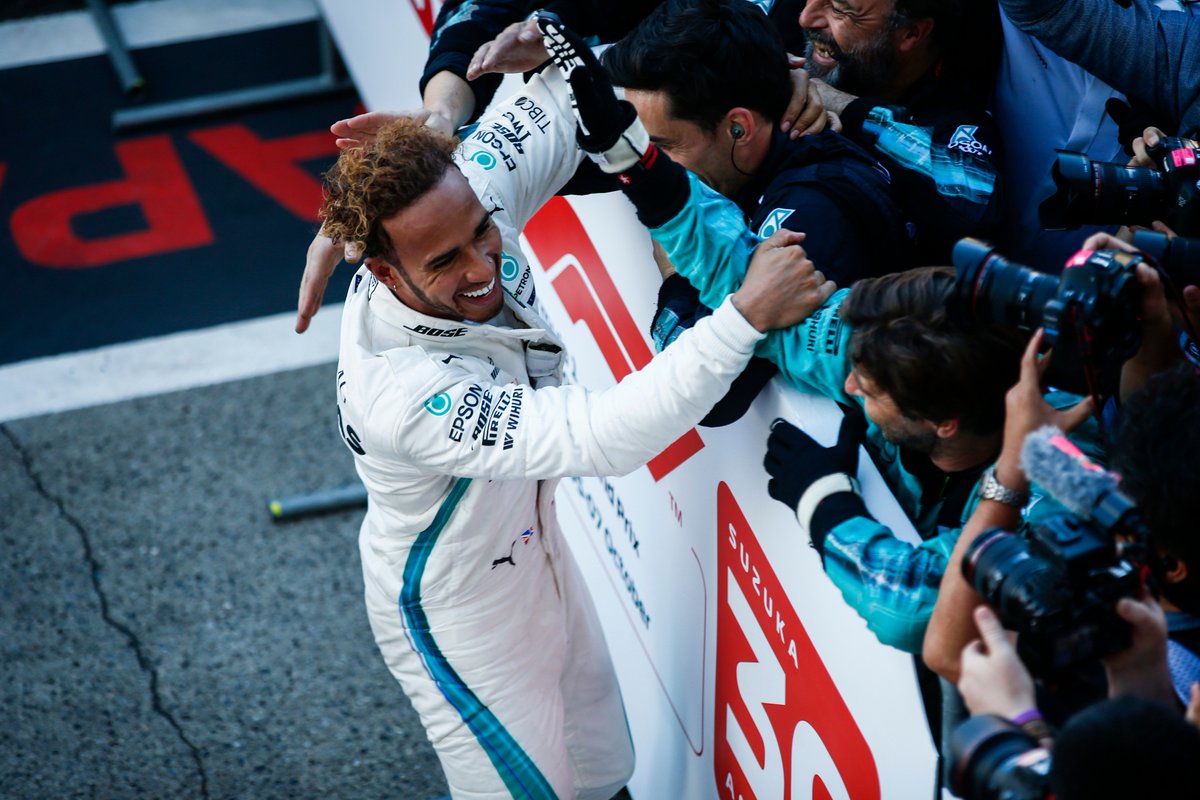 You will regularly see people complain about others who talk about the 'good old days' of F1, such as the late 1990s or early 2000s.
There are no doubts that the Schumacher and Vettel eras were quite dull and one-sided at times – but the level of dominance by Mercedes and Hamilton over the last five seasons is unprecedented. It's something to think about before dismissing peoples claims that the eras ruled by the German drivers were completely boring compared to what we've seen in recent times.
Mercedes have broken the following records since the start of the V6 era in 2014: Most poles in a single season, most wins in a season, most 1-2 finishes in a season, most podiums in a season and most points in a season. Make of that what you will...
What can't be questioned is the quality of these drivers and teams who've ruled the roost. These driver and team combinations have shown tremendous ability and fighting spirit – and that's why they've won 26 titles (27 if Mercedes can finish the job in the teams' in Brazil or Abu Dhabi) across both the drivers' and constructors' championships so far this century.
Let's hope we can see a close fight between multiple teams and drivers for the title next year. We've not seen it go the last round between drivers from different teams since 2012. The sport urgently needs it.