Verstappen: "The race was lost, and the podium too" || British GP
Vettel and Verstappen had a Vexatious race. ---
After the British Grand Prix, Sebastian Vettel admitted it was his error which led to the huge collision with Max Verstappen at Silverstone on Sunday.
The Ferrari's Sebastian Vettel and Red Bull's secret agent, Max Verstappen who was racing with James Bond 007 branding car this weekend were battling for third during lap 38 at Silverstone when both men left the track.
However,
Verstappen
hit the brakes at lap 38 for the corner, Vettel hit into his Red Bull's rare, both collided solidly, both skittered off into the gravel, but both managed to free themselves and continued racing.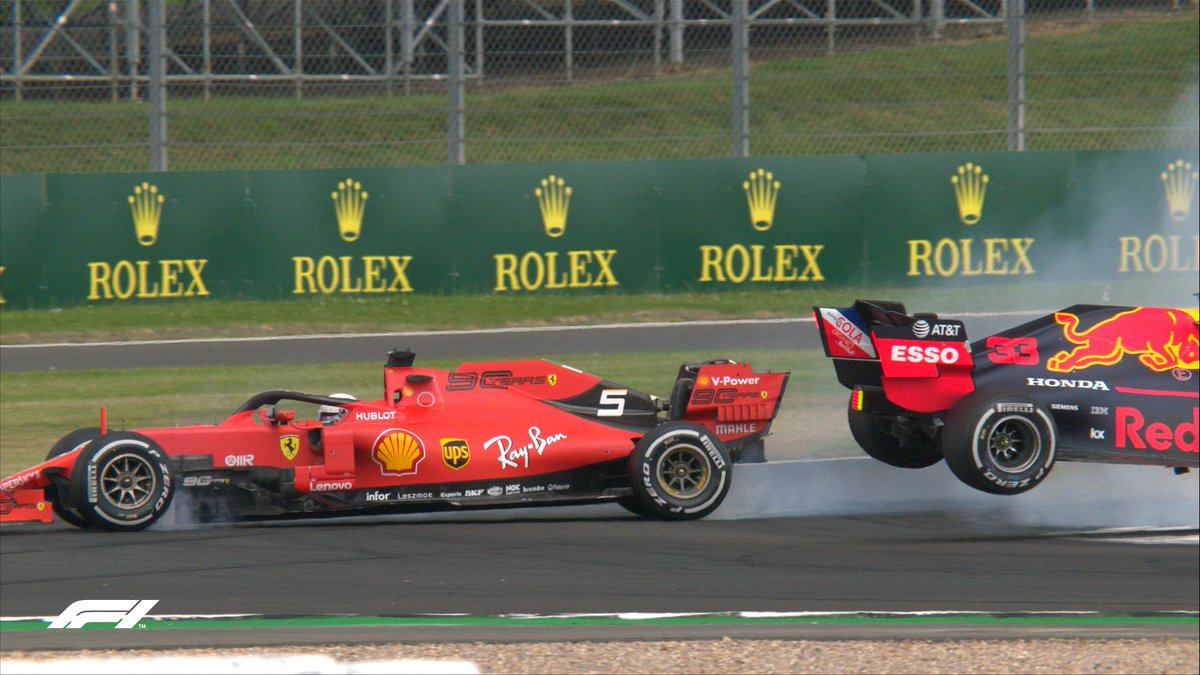 Max was eyeing for the podium but only managed fifth, while Vettel was given a 10-second time penalty for the incident, one which he has taken full responsibility for and admitted that it was his fault.
"It was my mistake," Vettel said after the race.
"He passed me into Stow and then he ran a bit wide which gave me the chance to come back.
"Then it looked for a second he was going to the right and there would be a gap on the left which I would be ready to go in for.
"It didn't open, and by then it was already too late, too close. So I crashed," he added.
Actually, Vettel had a wonderful performance and a great setting of the car today as he was pleased and it's disappointing how it has ended while chasing the fourth place as he was forced to pit for a new front wing, eventually, the German finished 17th.
"Today was good, I was very happy," Vettel said.
"We benefited from the safety car. We passed the three cars in front, but I think it was quite tight between us and Red Bull,"...
"But Max was a bit quicker than us today, in the first stint and at the end of the race," Vettel admitted, "We probably should have finished fourth, but we didn't. I didn't. So can't be happy with that."
On the other hand, Verstappen who finished P5 has explained what went through his mind when he got hit from behind: "The race was lost, and the podium and my focus was now to recover. It was a surprise to recover after smashing across the sausage kerb."


"My power steering more or less failed and it was a hard work out for me. The seat also popped out and was moving around a lot. The floor was badly damaged – I'm happy to be fifth!"


However, Verstappen is still a third place in the F1 standings despite the fifth place today. The Red Bull driver has a 13-point gap to Vettel in fourth place and a 16-point advantage over Leclerc in fifth place.

<blockquote class="twitter-tweet" data-lang="en"><p lang="en" dir="ltr">Max vs. Charles, Silverstone 2019<br><br>The pit lane edition...<a href="https://twitter.com/hashtag/BritishGP?src=hash&amp;ref_src=twsrc%5Etfw">#BritishGP</a> 🇬🇧 <a href="https://twitter.com/hashtag/F1?src=hash&amp;ref_src=twsrc%5Etfw">#F1</a> <a href="https://t.co/3zddO185K0">pic.twitter.com/3zddO185K0</a></p>&mdash; Formula 1 (@F1) <a href="https://twitter.com/F1/status/1150455667620077568?ref_src=twsrc%5Etfw">July 14, 2019</a></blockquote>
<script async src="https://platform.twitter.com/widgets.js" charset="utf-8"></script>