Brazil GP | Vettel surprised of Verstappen's last flying lap and says :
Here you can find what has been said at the press conference of the Brazilian GP. ---
Max Verstappen's pole position at the Brazilian Grand Prix was striking evidence that Red Bull has a strong performance in the final part of this Formula 1 season.
The Dutchman has now been fastest in qualifying in two of the past three races. In Interlagos, he gets to keep his place at the front of the grid after a virtually flawless weekend - without the mistake, he made in
Mexico
last month in not slowing for yellow caution flags on his final qualifying lap.
However, let's read what Verstappen, Vettel, and Hamilton been said right away after the qualifying session: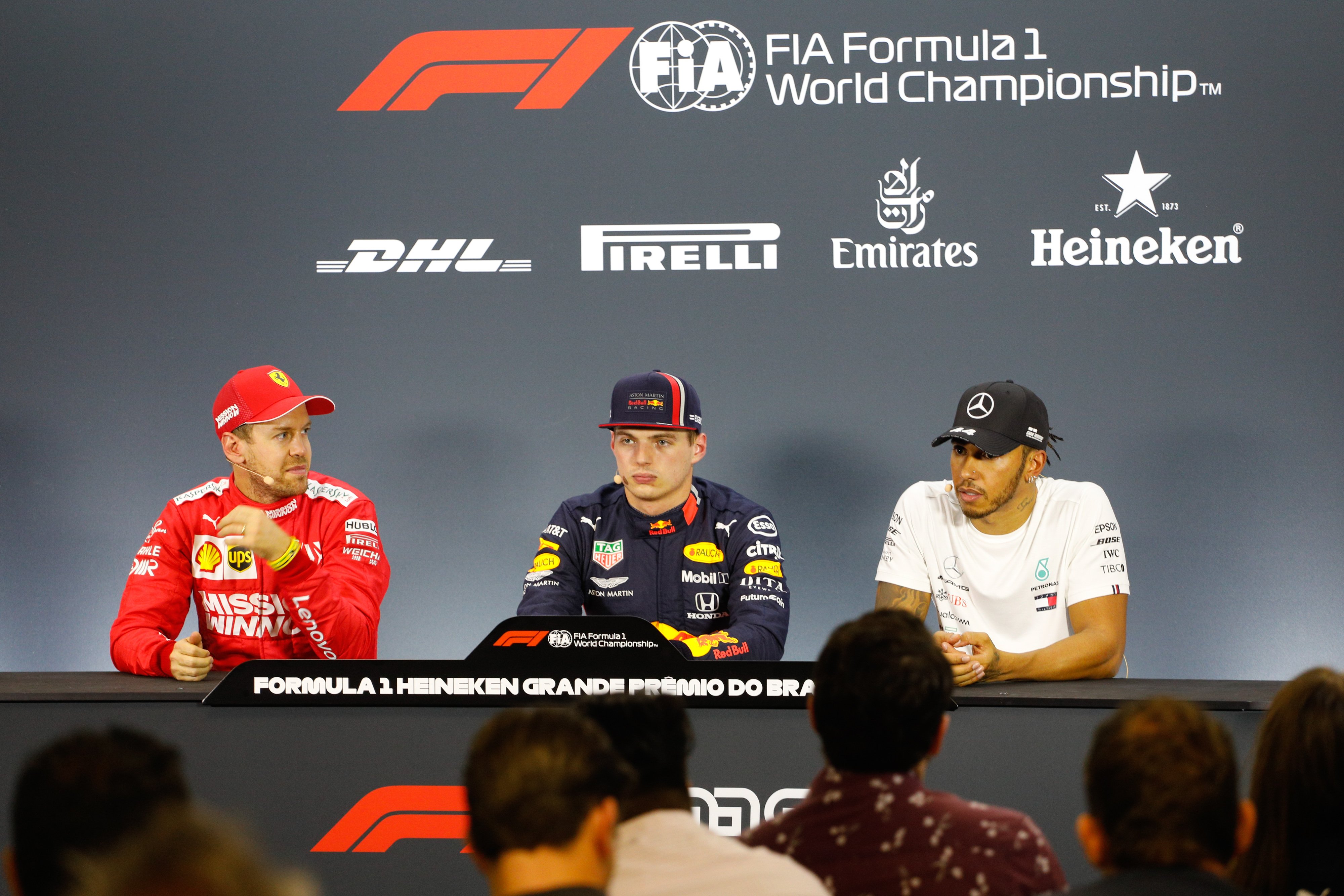 Taking the second pole position of his Formula 1 career, Max Verstappen. Max you couldn't...
MV: You said two; I have three. I consider myself this is my third.
SV: Mexico?
MV: Yeah.
SV: Ah, yeah.
MV: And then Hungary. So this is my third. He said second. This is my third.
We can discuss this afterwards, Max! You couldn't have been more dominant throughout qualifying. Just how good was that final lap of Q3 and how surprised have you been at the dominance of the Red Bull car around this Interlagos track?

MV: I think the last few races have already been quite strong. I think from today we changed the car a but from yesterday and it seemed to work really well and especially in qualifying it really came alive. It had really good balance. Already in Q2 it felt really good.
LH: You turned more power up?
MV: You don't do that through qualifying? And then Q3 I think also the track got a bit warmer, so it was a bit more tricky to get the lap time out of it...
SV: Go ahead...
MV: Why are you laughing?
SV: I'm in a world of my own. You go ahead.
How good was that last lap though?
MV: The last lap was pretty decent. It was alright. There are always things you can do better, but it was good enough.
And you've already touched on the track temperature. Is that how you explain how you were a tiny bit quicker in Q2 than in Q3?


MV: Like I just explained to them, I didn't tuck in on my last run, but I did that in Q2, which gave me two tenths or a one tenth advantage. That's why we had such good top speed.
And Max, are you confident for tomorrow? Do you feel that you have a good race car under you?
MV: Yeah, I guess so. The car already yesterday was not bad. I think today it improved, so normally it should also be better in the race but I guess we have to find out.
Sebastian, just a tiny bit off pole today. Were you pleased with the balance of your car?
SV: Yeah, I was actually. It was getting better. I think we were a bit shy yesterday, more aggressive this morning, which was a step forward, and in quali it seemed to go up and get better - but I think also the track ramped-up, so yeah, obviously it's good to, y'know, get in the front row. I was having a very good first attempt in Q3, went a little bit wide in the final turn - I don't think I was the only one - but yeah, I think Max's second time was a bit far away so I think we have to admit that we got beaten fair and square today. It was a bit of a surprise... not to see them that quick but to see them that quick on the straights. So, a little bit suspicious...
MV: For once it's you then!
And Sebastian, looking ahead to tomorrow, do you think you've got a competitive race car under you?
SV: Yeah, I think so. Obviously we know the race for us is maybe not as strong as quali but I was quite pleased with the balance and we therefore did another long run this morning in practice and it felt much better than yesterday. So that gives me hope for tomorrow.
Lewis, coming on to you, didn't look like an easy session for you - only time in the top three was right at the end of Q3. Could you just give us your thoughts on your car and how the session went?


LH: It's not too often it always goes particularly easy but it was definitely a challenging session. I think P3 was really strong for us and obviously once we got to qualifying, these guys had great pace and we were losing out to Max on the straights by quite a chunk, which is where the majority of the time was coming from but just kept chipping away at it. The last lap was as really as good as it could get really for us. The car actually felt really good, we were just lacking a little bit of pace on the straights but hopefully tomorrow that'll put us in a good position in terms of longevity on the stints. Maybe. Who knows? But otherwise I'm happy to be able to split the Ferraris. It always puts a smile on my face.
Lewis, looking ahead to the race, now that the Championship's in the bag, can we expect any different approach from you or anything different from you?
LH: My approach is pretty much the same all year long but maybe we can try to be a bit more aggressive tomorrow, we can have some fun with these guys - but yeah, I don't particularly see that there's any reason to make any changes. That's ultimately what's got me to where I am today, so I'll just continue with that.