F1 | Italian GP | Pierre Gasly beats Sainz and Stroll to victory in a wild Monza race
A remarkable race saw Gasly become the first French driver to win a race since Olivier Panis at Monaco in 1996. McLaren and Racing Point also finished on the podium in a breathless Grand Prix. ---
As the five lights went out, Hamilton made a perfect start to lead away. Sainz, Norris, Perez and Ricciardo all overtook Bottas on the opening tour as the Finn dropped to 6th. Verstappen fell from 5th to 8th, with Albon dropping to 15th in the Red Bull after contact with Gasly heading into turn 1.
The Alfas got away well with Raikkonen going from P14 to P12 and Giovinazzi gaining four places to be 14th.
On lap 5 the order was Hamilton, Sainz, Norris, Perez, Ricciardo, Bottas, Verstappen, Stroll, Ocon and Gasly.
Sebastian Vettel's race came to an early end as the German had a brake failure in his Ferrari on lap 6 whilst running in a lowly 17th place.
Alex Albon got hit with a 5-second penalty for failing to leave a car's width at the edge of the track as he was battling Romain Grosjean.
The Safety Car was deployed on lap 20 as Kevin Magnussen pulled off just before the pit entry with an issue.
Giovinazzi and Hamilton were put under investigation for entering the pit lane when it was closed as they removed the Haas from danger.
Hamilton retained the lead ahead of Stroll who didn't pit. With Gasly, Giovinazzi, Raikkonen, Leclerc and Latifi all pitting before the Safety Car, they found themselves in positions 3-7. Sainz, Norris and Bottas rounded out the top 10 at the restart.
Leclerc made a superb restart and passed both Alfa Romeos but had a huge crash in Parabolica as he lost the rear of the car and hit the barriers hard. The race was red-flagged due to the damage to the tyre barrier.
🚩 RED FLAG 🚩

The race is suspended after Leclerc's accident at the final corner

Cars will line up in the pit lane in race order#ItalianGP 🇮🇹 #F1 pic.twitter.com/uS5RLkQA44

— Formula 1 (@F1) September 6, 2020
In a dramatic twist, 10-second stop-and-go penalties were confirmed for Hamilton and Giovinazzi for pitting while the pit lane was closed.
⚠️ PENALTIES ⚠️

Lewis Hamilton and Antonio Giovinazzi both receive a 10-second stop-go penalty for entering the pit lane when closed

They will both serve this when racing resumes#ItalianGP 🇮🇹 #F1 pic.twitter.com/BYFxWAi22D

— Formula 1 (@F1) September 6, 2020
Hamilton, Stroll, Gasly, Raikkonen, Giovinazzi, Sainz, Norris, Bottas, Latifi and Ricciardo was the top 10 on the restart. It was confirmed that the race would resume with a standing start on the grid.
With everyone allowed to change tyres under red flag conditions, Stroll was the unofficial leader with Hamilton's penalty.
Gasly was the biggest winner on the restart as he got a great launch to jump Stroll, as did Raikkonen and Sainz. Gasly, Raikkonen, Sainz, Stroll, Norris, Bottas, Ricciardo, Ocon, Kvyat and Perez was the top 10 after Hamilton and Giovinazzi served their penalties.
Max Verstappen's dismal day came to an end as he pulled out of the race on lap 31.
Sainz, Stroll, Norris, Bottas, Ricciardo, Ocon, Kvyat, Perez and Hamilton all overtook Raikkonen as the Finn dropped from P2 down to P11. While Raikkonen dropped back, Hamilton charged through from P15 to recover to 7th.
Gasly drove a magnificent race out front to just hold off Sainz to take his maiden Grand Prix victory. Lance Stroll scored a second career podium in the Racing Point as he finished 3rd.
Norris, Bottas, Ricciardo, Hamilton, Ocon, Kvyat and Perez completed the points scorers following a truly astonishing race.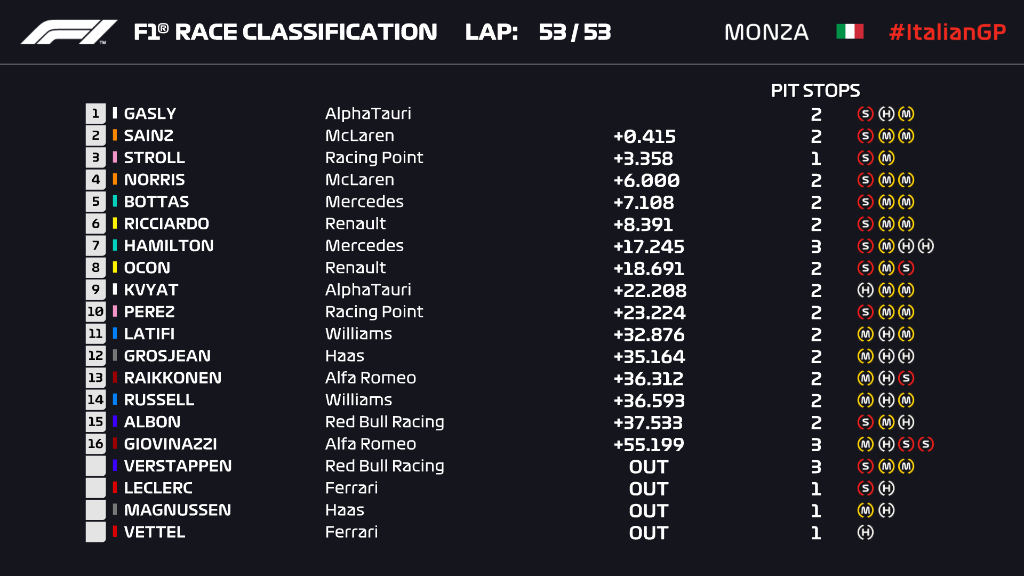 "OH MY GOD!! WHAT DID WE JUST DO?! DID WE WIN THE ****** RACE?! WE DID IT AGAIN!!!" - @PierreGASLY, 2020#ItalianGP 🇮🇹 #F1 pic.twitter.com/45BZqX15pw

— Formula 1 (@F1) September 6, 2020