F1 | Bahrain Testing | Day 3 afternoon report: Red Bull and Tsunoda impress while Mercedes and Aston Martin seem to be struggling
After three fully-packed days, the pre-season testing in Bahrain come to an end with some Max Verstappen dominating the final session and other teams making a poor impression. ---
That's a wrap for the pre-season testing. The teams will now have 14 days of hard work to analyze all the data and adjust their challengers before the first race at the Bahrain International Circuit on March 28th.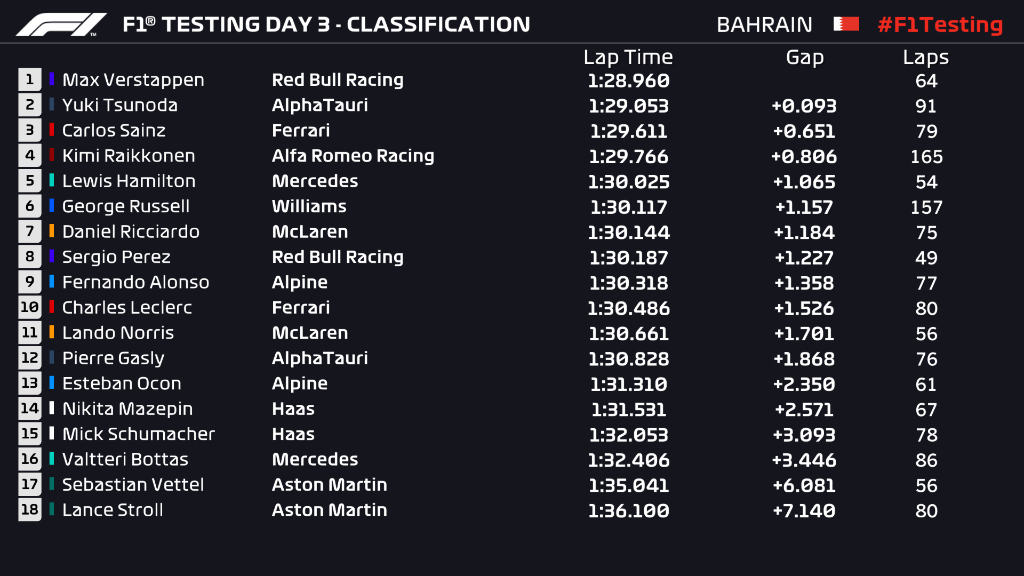 Honda-powered teams Red Bull and AlphaTauri had a very solid afternoon session, making a very good impression, unlike Mercedes, who was seemingly having some troubles. The last day of tests has concluded with Max Verstappen and rookie Yuki Tsunoda finishing P1 and P2.
The Dutch driver finished with a 1m 28.960s on the C4 tyre, a tenth ahead of Tsunoda who ran the softest of all the compounds.
Quick 📦 for @redbullracing and @Max33Verstappen!

The fastest pit-stop record holders are on point 🔥#F1 #F1Testing pic.twitter.com/bYRloy4lWa

— Formula 1 (@F1) March 14, 2021
Ferrari's newest addition Carlos Sainz crossed the line with a credible P3 (with a 1m 29.611s lap), despite suffering a brief pause in running due to a hydraulic issue and a track-accident with Kimi Raikkonen on the closing laps of the tests.
Overall, AlphaTauri made a very good impression, with both of their drivers being very quick and no particular car issues. McLaren too seem very confident, and they'll probably be pleased with their testing – They had no real reliability issues, smooth running for both drivers, especially Ricciardo, who seems to have integrated so well into the team.
Seven-times World Champion Lewis Hamilton hasn't shined today, concluding the day with a P5, one full second behind Max Verstappen. The Briton lost time in the first hour of the afternoon, due to mechanical issues. Hamilton used the softest compound late on to improve his position overall and finishing behind a brilliant Kimi Raikkonen. Hamilton, however, found it difficult to string together fast sectors in his final qualifying speed runs, even spinning in his final few laps in what looked like a pretty unstable W12.
Lewis heads out for a qualifying run, but spins on the final corner 🔁#F1 #F1Testing pic.twitter.com/W47XMYqbzG

— Formula 1 (@F1) March 14, 2021
Williams gave signs of improvement compared to last year, while Haas has been struggling. The young British driver George Russell, completed a total of 160 laps and managed to go sixth on C5 tyres. Fernando Alonso behind the wheel of Alpine finished ninth quickest on C4 tyres – as Esteban Ocon finished 13th overall with mediums. Both drivers managed more than 60 laps each, ensuring a healthy total for Alpine, which will probably be a credible mid-field contender in the upcoming campaign.
The team who seems to be struggling the most is Aston Martin - The bigger issue by far is the team's reliability. Unfortunately, during this afternoon's session, Sebastian Vettel's AM21 suffered the second mechanical issue in his three sessions, preventing the four-time World Champion to get some laps in. The German completed only 107 laps this week, in contrast with an average of 230+ laps of other drivers.
An early finish for #SV5 due to a loss of boost pressure. We are investigating further but unfortunately that's a wrap for our test.

Sebastian finishes today with 57 laps. #F1Testing pic.twitter.com/qCxGYGzXvu

— Aston Martin Cognizant F1 Team (@AstonMartinF1) March 14, 2021