F1 | Russian GP | Hamilton wins for the 100th time in dry-wet Russian GP as Verstappen finishes P2, heartbreak for long-time leader Norris
In a truly crazy Russian Grand Prix, Lewis Hamilton won and made history. Max Verstappen went from 20th to 2nd as Carlos Sainz completed the podium spots. ---
On Sunday morning, it was confirmed that Valtteri Bottas would be taking another grid penalty for component changes, with Antonio Giovinazzi hit with a 5-place grid drop for a gearbox change.
It put Bottas 16th, Giovinazzi 17th, Latifi 18th, Leclerc 19th and World Championship leader dead last.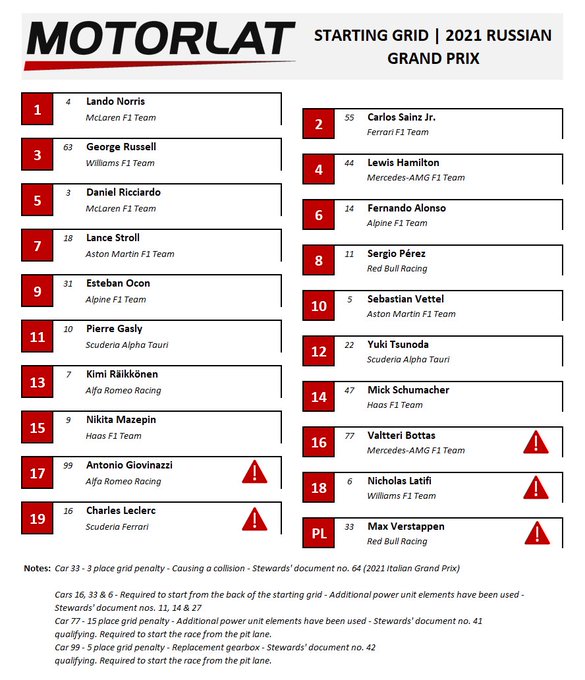 The top 5 and most of the grid started on mediums, with Alonso, Perez, Gasly, Bottas, Giovinazzi, Leclerc and Verstappen starting on hards.
Off the line, Sainz got Norris for the lead of the race after taking the tow from the McLaren on the run into T2, followed by Russell, Stroll, Ricciardo, Alonso and Hamilton.
Hamilton got boxed in throughout lap one and dropped three spots, but instantly moved past Alonso on lap two in turn 4 to regain a spot. Alonso's struggles continued and lost out to Perez a lap later.
Sainz, Norris, Russell, Stroll, Ricciardo, Hamilton, Perez, Alonso, Ocon and Raikkonen was the top 10 on lap five. Leclerc worked his way up to P12, with Bottas and Verstappen 14th and 15th respectively.
Max Verstappen made a vital move on lap 6 to overtake Bottas for P14 at the end of the second DRS straight. The Dutchman repeated the trick a couple of laps later on Gasly.
Vettel and Leclerc had an epic scrap through multiple corners on lap 10 but the German held out. The Ferrari ran wide in turn 7 and it gifted a place to Verstappen.
The first stop came on lap 13 as Lance Stroll boxed from P4. On the same lap, Norris overtook Sainz for the lead of the Grand Prix, as Verstappen passed Vettel for P9 to continue his charge through the field.
Stroll's undercut worked as they jumped Russell who boxed a lap later to try and respond. Sainz's tyres were shot and pitted from P2 on lap 15. Hr stayed just in front of the Canadian.
By lap 20, Norris was 10s clear of teammate Ricciardo, who had a train of Hamilton, Perez, Alonso and Verstappen. Leclerc, Vettel, Gasly and Bottas completed the top 10.
On lap 23, Ricciardo pitted from P2 but he had a very slow stop. Hamilton responded four laps later and came out in front of the Australian. The seven-time World Champion quickly cleared Stroll, Sainz and Gasly to move into P5, a net P2.
Leclerc on lap 35, Perez and Alonso a lap later finally pitted. Perez had a shocking stop, dropping to 5th instead of coming out in a comfortable P3. Alonso rejoined in P7, Leclerc came out in P13.
Alonso cleared Verstappen for 6th very quickly as the Alpine had much better tyres than the Red Bull.
With fourteen laps to go, Norris led Hamilton, Sainz, Ricciardo, Perez, Alonso, Verstappen, Stroll, Russell and Leclerc. Leclerc quickly cleared Russell and Stroll on his fresh mediums.
After a number of attempts, Perez overtook Ricciardo with ten laps to go to take 4th position. The Mexican also cleared Sainz for P3 as Alonso moved past the Ferrari and McLaren too as the weather closed in. In the lower places, Stroll and Vettel touched heavily as the Canadian put his teammate in the wall, but both could continue.
Rain started to fall with a few laps to go and heartbreak occurred for Lando Norris. The young Brit stayed out on dries but paid a huge price as the rain got even worse. Hamilton, Verstappen, Sainz, Ricciardo and Bottas, who had been anonymous all race, played it right by switching to inters at the perfect time.
Hamilton breezed by Norris as the younger Brit slid off the circuit on his dries, but managed to keep it out of the wall. Leclerc did the same as the Ferrari driver also made a grave error of staying out on dries. Alonso and Perez did the same and lost out massively.
History was made as Lewis Hamilton scored his 100th victory in a simply wild race at Sochi. Verstappen's brilliant call got him 2nd place, as Carlos Sainz scored another podium for Ferrari.
I N C R E D I B L E 💯@LewisHamilton #F1 pic.twitter.com/bjPvx2xHHG

— Formula 1 (@F1) September 26, 2021
Ricciardo, Bottas, Alonso, Norris, Raikkonen, Perez and Russell completed the top 10 in a truly remarkable Russian Grand Prix.