Spanish Grand Prix – Warm Up
Everything you need to know about tyres, penalties and the final starting grid for the fifth Grand Prix of the season. ---
The first six places on the grid are occupied by the same six drivers as it was last year, however the order of the drivers has changed a bit. Mercedes filled the first row entirely this time: Lewis Hamilton took the pole position as Valtteri Bottas followed him being just 4 hundredths slower.
Lewis' main rival Sebastian Vettel will start from the third position, despite a major improvement made on the final lap. His teammate Kimi Raikkonen managed to reach the 4th position, followed by Red Bull guys Max and Daniel.
All of the top six will start the race on the Softs after posting their best Q2 times on that tyre type.
Pirelli has brought three types of compounds for the Spanish Grand Prix – Medium, Soft and SuperSoft. Here's which compounds every driver still has available for the race.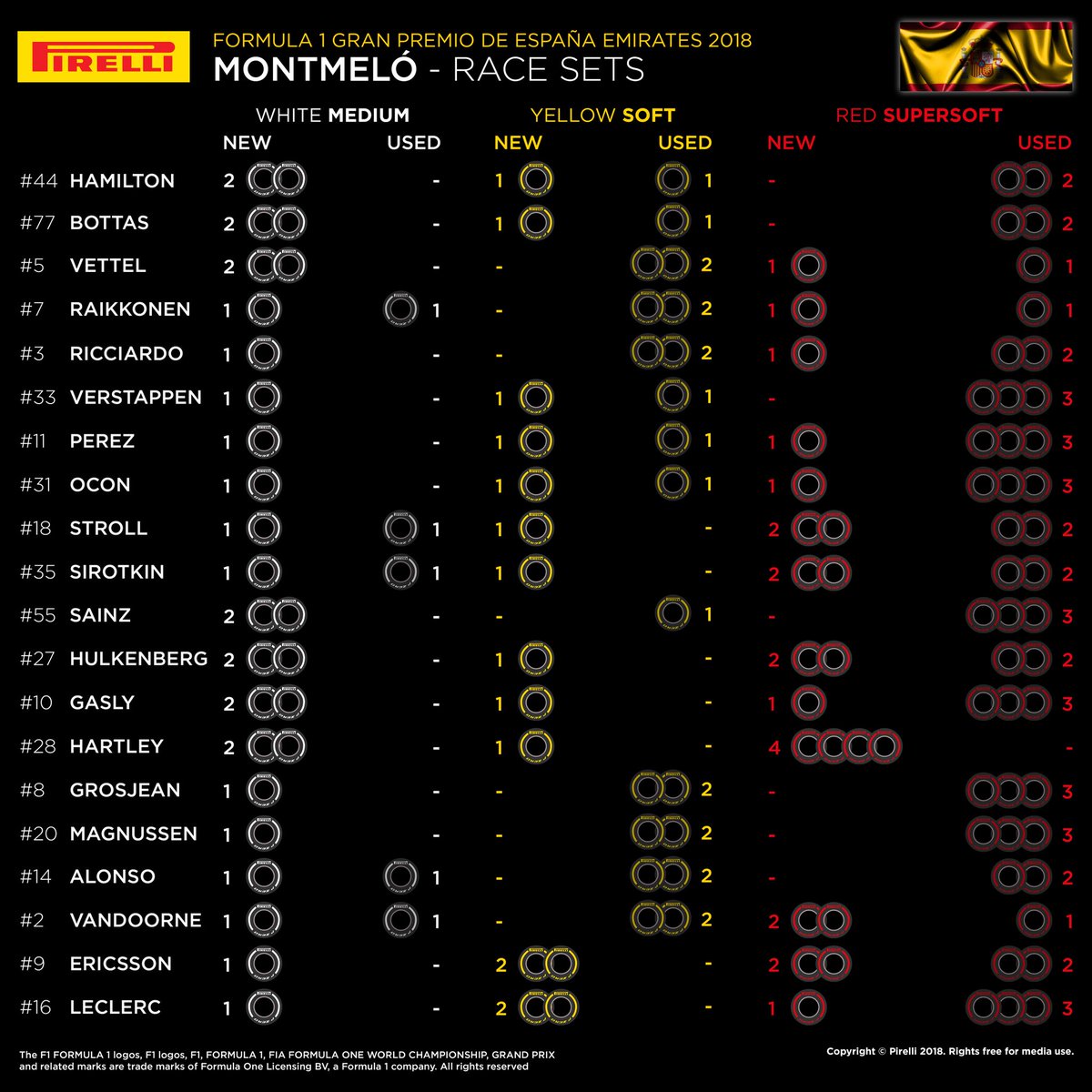 Having 3-place grid penalty for causing a collision during Azerbaijan GP, Sergey Sirotkin will start his race from the 19th position. As for the power unit changes, Kimi Raikkonen will use a new motor generator unit-heat (MGU-H), internal combustion engine (ICE) and a turbocharger, and Fernando Alonso will have a new turbocharger as well. It's worth mentioning that neither of them was given penalties for these changes as the number of parts does not exceed the allowable norm per season.
Now let's take a look at the starting grid for the Spanish Grand Prix. Despite not participating in the qualifying session due to his crash in FP3, Brendon Hartley was allowed by stewards to start the race.
1st row

1° - Lewis Hamilton, Mercedes - 1.16.173s

2° - Valtteri Bottas, Mercedes - 1.16.213s

2nd row

3° - Sebastian Vettel, Ferrari - 1.16.305s

4° - Kimi Raikkonen, Ferrari - 1.16.612s

3rd row

5° - Max Verstappen, Red Bull - 1.16.816s

6° - Daniel Ricciardo, Red Bull -1.16.818s

4th row

7° - Kevin Magnussen, Haas - 1.17.676s

8° - Fernando Alonso, McLaren - 1.17.721s

5th row

9° - Carlos Sainz, Renault - 1.17.790s

10° - Romain Grosjean, Haas - 1.17.835s

6th row

11° - Stoffel Vandoorne, McLaren -1.18.323s

12° - Pierre Gasly, Toro Rosso -1.18.463s

7th row

13° - Esteban Ocon, Force India - 1.18.696s

14° - Charles Leclerc, AF Sauber - 1.18.910s

8th row

15° - Sergio Perez, Force India - 1.19.098s

16° - Nico Hulkenberg, Renault - 1.18.923s

9th row

17° - Marcus Ericsson, AF Sauber - 1.19.493s

18° - Lance Stroll, Williams - 1.20.225s

10th row

19° - Sergey Sirotkin, Williams - 1.19.695 -

3 place grid penalty

20° - Brendon Hartley, Toro Rosso - no time
And lastly, the rain that started at night should stop by noon. Drivers will start their warm-up laps at 14:10 local time. By this hour the air will warm up to +17 with a cloudless sky and a mild western wind. Precipitation during the race is not expected.