Australian GP strategies: Running longer pays dividends
In a race that was always going to be a one-stopper, staying out and doing a long first stint proved to be the best choice: for the most part. Verstappen, Stroll and Kvyat were the biggest winners on the day. Once again, Ferrari seemed to make an error by pitting their lead driver too early. ---
Bottas and Verstappen split the race perfectly
Starting on the softest tyre, both Valtteri Bottas and Max Verstappen did an excellent job to look after them and extend their opening stints in the race.
So good was Bottas' pace on older tyres that he managed to set three consecutive laps from laps 19 to 21 and pulled out 5 seconds on his team-mate during the five flying laps between Hamilton's stop (lap 15) and his own (lap 23). A 4s lead turned into an 11-second one and the race was won. The later stop allowed him to claim the fastest lap point on the penultimate tour, too.
With Vettel trying an early undercut on Hamilton, Red Bull kept Verstappen on track and played the long game. He pitted on lap 25, a full 11 laps after Vettel boxed for new tyres. The gap before the stop was around 2s, and when he rejoined it had only climbed to 4s. He could immediately go after the German.
6 laps later, Verstappen eased by at T3 to take the final podium spot. Despite catching Hamilton, he never could have a go at the Brit at any point. Still, it's a good start to the season for Red Bull and their strategy team.
More questionable tactics from the Ferrari pit wall
A new season, but it seems to be the same old story at Ferrari. The strategy team is already under pressure following the opening race of the season.
They brought Sebastian Vettel at the end of lap 14 to try and undercut Hamilton – but it seemed like a strange decision. The German was 4 seconds adrift of his British rival and even an incredible outlap wouldn't have been enough to take the place.
That left Vettel exposed to Verstappen on much fresher boots later in the race and the Dutchman ultimately cruised through. Leclerc also caught his stablemate on much younger tyres (14 laps), but the team ordered him to stay behind the German.
While there are clearly bigger issues for Ferrari than strategy on the basis of yesterday's race, the decision to box him so early was perplexing.
Stroll and Kvyat profit from the Giovinazzi train
Points looked fairly unlikely for the pair in the first 15 laps of the Australian Grand Prix as they ran P13 and P14 – and they 4.5s off Norris in P10.
However, with Norris, Albon and Perez stopping early on the soft tyres, an opportunity opened up for the Canadian and the returning Russian.
Antonio Giovinazzi in his damaged Alfa Romeo came into play and he had a huge role in deciding who got P9 and P10. The Italian was struggling massively on his tyres – but he fended off Lando Norris for a full six laps. It was another example of how difficult it is to overtake at Albert Park.
As Norris, Albon and Perez got stuck in the Giovinazzi train, they were all lapping in the 1:30s or 1:31s. Meanwhile, Stroll and Kvyat were pumping in times the low 1:29s on their older tyres and could build enough of a gap during that period to be comfortably ahead after pitting.
Crucially, they both showed good pace following their stops to remain ahead of Pierre Gasly; the Frenchman had been tracking them closely before they stopped. Gasly boxed himself on lap 37 but returned to the track behind them again. Stroll and Kvyat were rewarded for good drives by claiming the final two points scoring positions.
Take a look at the graphics below courtesy of Pirelli for more information on what each driver and team did during the race.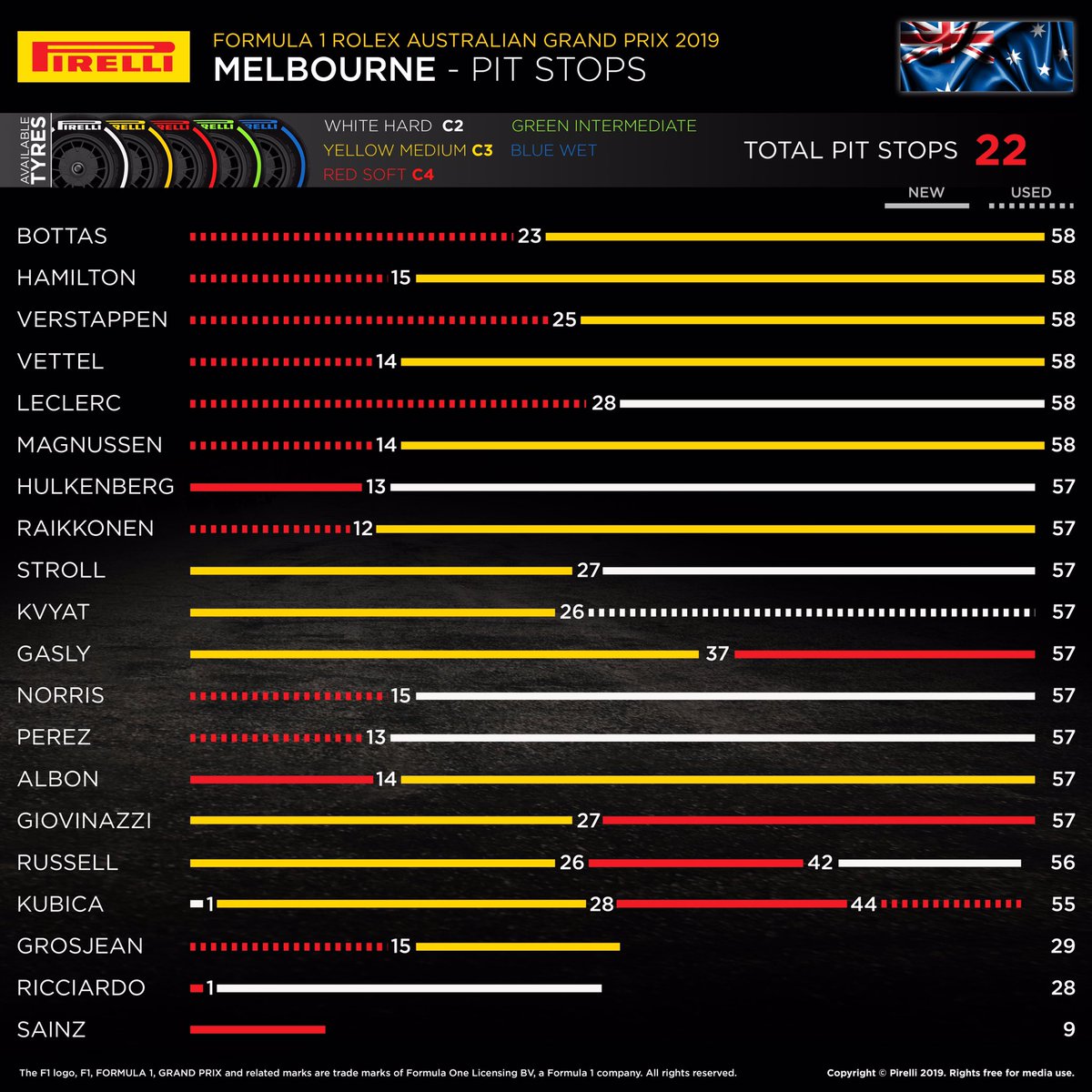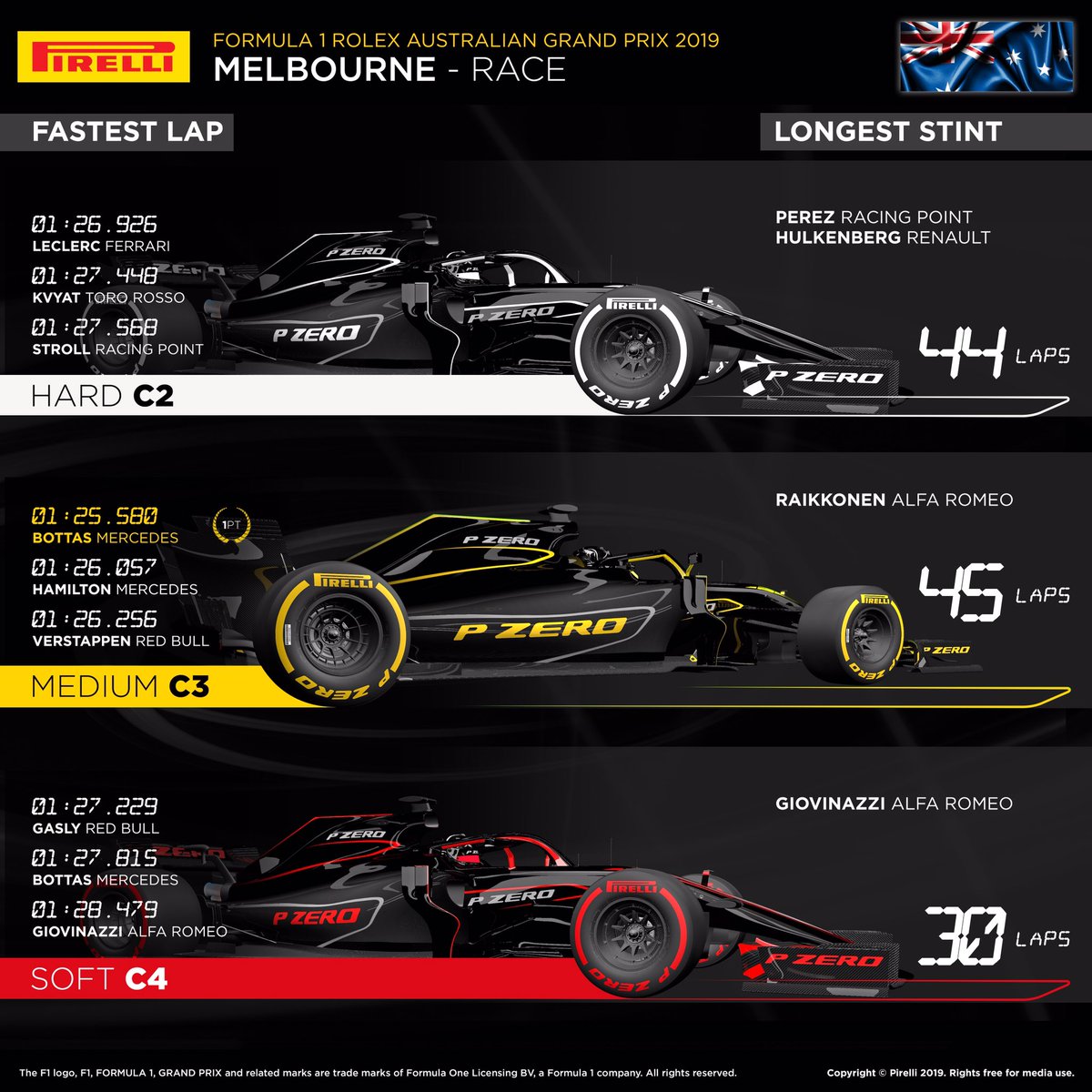 Get the #Fit4F1 breakdown on today's #AusGP 🇦🇺🏎💨🏆 https://t.co/M9G5kaxn2p

— Pirelli Motorsport (@pirellisport) March 17, 2019