Riyadh press conference. Track Layout and new partenership for Formula E
All the details that have been revealed by the press conference being held at Ad Diriyah with the presence of Prince Khalid bin Sultan Al-Faisal Al-Saud, Alejandro Agag, Susie Wolff, Felipe Massa, and others... ---
With just less than 80 days until ABB FIA Formula E Championship season 5 starts, Ex-Formula 1 driver Felipe Massa is ready to start a new chapter in his race career getting behind the wheel of the 2nd generation Formula E car.
The inaugural ePrix will be held on December 15th in Riyadh, Kingdom of Saudi Arabia capital city. The exact location will be at Ad Diriyah a neighbourhood 20Km North West of Riyadh.

It will be the first time ever that a Formula E race will be in Middle East, and also the "debut" of Felipe Massa with this kind of cars. He declared he was excited about driving in the streets of Ad Diriyah. He has done a demonstration with his new Venturi car around the city streets.

"I am ready for the race. It's a fantastic feeling driving around the city, the town, it's historical. It will be a big event," Massa said at the press conference where Formula E annouce a new long-term partnership with Saudi Arabian Airlines' as official airline partner of the all-electric series.

"It's a big challenge for me to change categories, to Formula E. Learning everything is a challenge. It's different cars, different tracks and a different way of driving. I need to learn and grow to understand but I like new challenges."

"I'm really happy to be a part of this new challenge for my career. In a new place and country, it's motivating," he added.

In other hand, Massa has expressed his point of view about allowing Saudi women to drive in the kingdom since June 24th: "I heard that women are driving (in Saudi Arabia) now and that's fantastic, hopefully in the future, there will female racers,"

Massa called Formula E vehicles "next generation cars" and it's hoped that the Ad Diriyah race helps to change the face of Saudi Arabia by inspiring more women to get behind the wheel in the Kingdom" he added.
#AdDiriyahEprix [🔉sound ON] Today @MassaFelipe19 was the very first one to drive a #FE car here 😎
81 days before the race! ⚡️ #VENTURI #MadeInMonaco #ABBFormulaE #Season5isComing pic.twitter.com/gucTa0qhQR

— Venturi Formula E (@VenturiGP) September 25, 2018
Susie Wolff, Venturi Formula E team principal, was part of the attendance of Formula E stars including Felipe Massa, and André Lotterer, expressed her feeling about the warm welcome saying: "What a warm welcome for my first trip to the Kingdom of Saudi Arabia. I'm very much looking forward to coming back for the inaugural SAUDIA Ad Diriyah E-Prix in December and I'm proud to be part of such a ground breaking and positive event. Congratulations to the visionaries who had this idea & are making it happen."

Formula E has revealed the track layout for the inaugural Saudi Arabia race in Riyadh, which will kick off the 5th season, 2018/19 in December.

The circuit that 22 E cars will race on, is 1.76 miles long and features 21 corners but is still subject to official homologation from the FIA.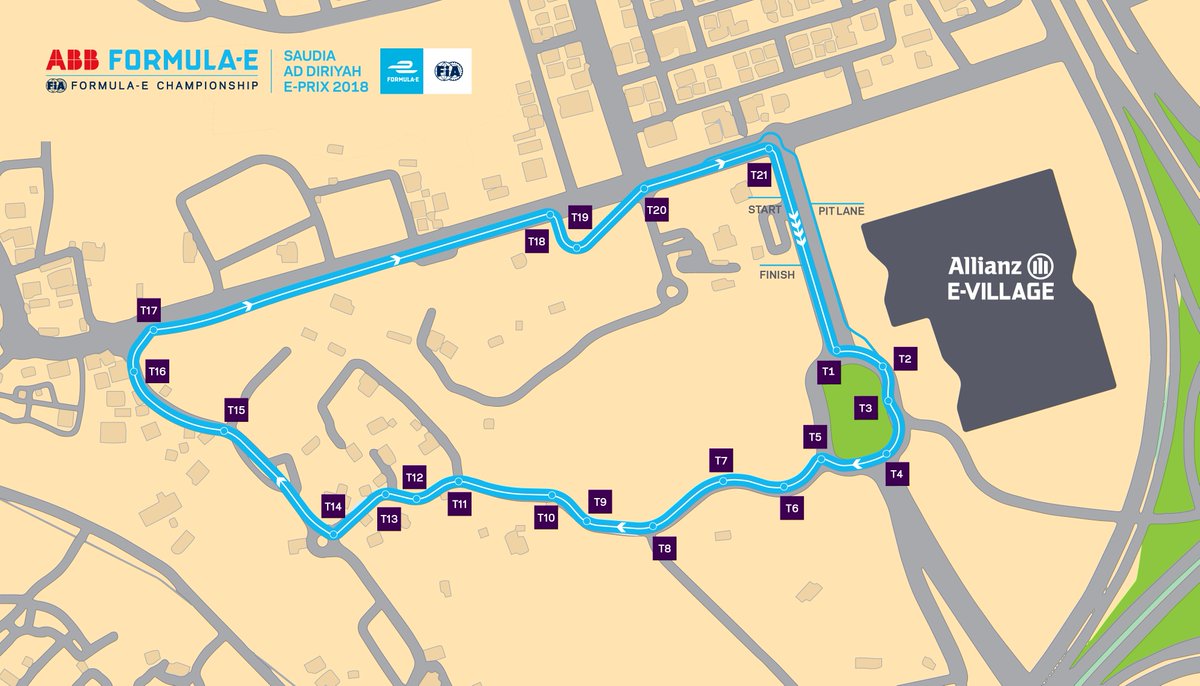 How to get the easiest way to get a Saudi visit visa:

The Kingdom of Saudi Arabia will also open the borders to the fans of around the world as it has been launched of a new online visa process dedicated to welcoming international tourists.

An online system has been created which will provide an authorized ticket for entry into Saudi Arabia to ease the application and verification process.

"It's fantastic news that SAUDIA is joining the ABB FIA Formula E Championship as official airline partner – ahead of the first race in Saudi Arabia and the debut of fully-electric racing in the Middle East," said Formula E CEO Alejandro Agag.

"The partnership continues to show the appeal of Formula E on a global scale and I'm proud to welcome SAUDIA to the Formula E family as the excitement continues to build for the opening round of season five on December 15.

The new visa process platform known as 'Sharek' or "Join" will be introduced for the inaugural Saudia Ad Diriyah E Prix being staged at a UNESCO heritage site on the outskirts of Riyadh on December.

The Jaguar I-PACE eTROPHY will be the first all-electric racing championship in driving history coming alongside and to support the series of Formula E, as well as the first to make production vehicles.

Prince Khalid bin Sultan Al-Faisal Al-Saud, president of the Saudi Arabian Motor Federation, said: "Something we haven't announced yet, is that there will be a support race for Formula E, it's the Jaguar I-Pace trophy, it will race around the world with the Formula E circuit."

"Saudi Arabia will participate in that championship as a national team with two Saudi Arabian drivers and we will announce the names soon."

Prince Abdulaziz Bin Turki AlFaisal Al Saud, Vice-Chair of the Saudi Arabia General Sports Authority, said: "This is a truly game-changing moment for Saudi Arabia and one that we can share with the world. It is very fitting that the such a futuristic and sustainable sport as Formula E is pointing to the future direction of our country. Naturally to have Saudia, our national carrier, as the new title sponsor signals our intent to reach out and invite fans to our historic and original capital."

"Saudi Arabia is home to literally millions of passionate young fans of motorsport. Many of whom simply cannot believe that Felipe Massa took the Gen2 car around the streets of the capital today and that they now have a 'home race' on the Formula E calendar. So already the excitement is building especially since we're adding live music concerts to the weekend line-up."

"Saudi Arabia is racing into the future with Formula E as we open the Kingdom to the world in a transformation that is being supercharged by the Vision 2030 plan, and driven forward by His Royal Highness, Crown Prince Mohammed Bin Salman," he added