Legendary Sauber name will have its place in F1 history.
Sauber F1 team has been creating indelible memories while it was going through thick and thin in its career. Sauber name has an indelible place in all our hearts. A short history of the team, have a good read. ---
Last year was sadly the final season we will see the name Sauber F1 team racing under its original name since Peter Sauber made his F1 debut taking his racing car in the first race of the 1993 season using an engine supplied by Mercedes at the South African GP. The team has now retitled itself as Alfa Romeo, thus returning this legendary name to the Formula One World Championship in the 2019 season. This was the Italian motor manufacturer to win the first ever GP at Silverstone hosted by the FIA. It was a historic 1-2-3 Alfa Romeo podium for the Italian marque.

All that just happened after Alfa's title sponsorship has announced with Sauber in 2018 and marked Alfa's first major F1 involvement since 1985. 2018 was the last year to see Sauber F1 team racing under its name in F1. However, the Switzerland-based company is seeking to develop its technology and engineering projects with the Italian outfit (technical partnership).


Sauber - Mercedes (1993–1994)

Sauber C12 was (the first child) the first car which Sauber Formula One team made its FIA Formula One World Championship debut in 1993, by then it was the first 'turbo era' of F1 ended with the 1988 F1 season, first drivers for the team were, Austrian Karl Wendlinger and Finn Jyrki Juhani Järvilehto.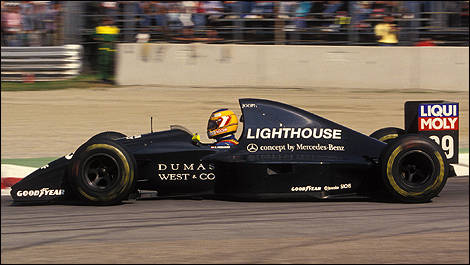 And if you ever wondered what 'C' represents for Sauber's cars? The 'C' is a reference to Peter Sauber's wife Christine. This car was designed by former Ferrari and Tyrrell man Harvey Postlethwaite. With 7th being their score in World Constructors' Championship.


The following year, the C13 which was designed by André de Cortanze and Leo Ress, this car was driven by Karl Wendlinger, Andrea de Cesaris, JJ Lehto and Heinz-Harald Frentzen throughout that season. On their second year, they have scored 8th in World Constructors' Championship.

(1997–2005) Petronas Engineering ( Ferrari Engine)

Sauber remained as an independent F1 team and eventually switched to Ferrari engines that were badged by Petronas. The team was the first destination for several upcoming drivers including rookie Kimi Räikkönen, Nick Heidfeld, Jacques Villeneuve and Felipe Massa. As we know Saber is and was the team that have given many world champions the opportunity when they were just rookies. for example, in 2001, Heidfeld scored his first podium on his third race for the team and out-scored Raikkonen 12 points to nine, on the other side, McLaren were eyeing and much impressed by the young Finnish driver and signed him to partner David Coulthard for 2002.
However, In 2004, Sauber C23 was driven by Giancarlo Fisichella, with Nick Heidfeld and Felipe Massa. The team scored 34 points overall and 6th place in the Constructors' Championship. the Suisse outfit spent a large sum of money on a new wind tunnel and has built up a great challenger that attracted BMW Motorsport to join Sauber. Beverage company Red Bull left Sauber in 2005 as they founded their own team, Red Bull Racing.

BMW - Sauber (2006 - 2009)

A new project has started as the Suisse team wanted to increase its competitiveness in F1, the team's majority shareholding previously owned by Credit Suisse was bought by BMW and renamed as BMW Sauber. They announced a technical partnership with Intel, drivers were Jacques Villeneuve and Nick Heidfeld who returned again with Sauber as he drove in (2001-2003). Pole Robert Kubica was signed as the team's third driver.

In 2007, it was announced that Robert Kubica would partner Nick Heidfeld. However, the team had a big crash as Robert Kubica astonishingly escaped his violent incident in the Canadian Grand Prix without serious injury and was replaced with Sebastian Vettel. One year later, Robert Kubica of Poland, takes the checkered flag as he crosses the finish line to win the Canadian Formula One Grand Prix as an act of redemption!

BMW Sauber team scored a single one win and 16 podium finishes from 70 Grands Prix, It was an incredible year for the team as they secured second place in the 2007 World Constructors Championship, behind Ferrari. At the end of the 2009 season, the team was sold back to Peter Sauber and reverted to the Sauber name in 2010.

Independent Sauber returns to Ferrari Engine (2010 - 2017)

The Sauber C29 was a car which competed in the 2010 F1 season, designed by BMW Sauber F1. It was driven by Pedro de la Rosa and Kamui Kobayashi until Nick Heidfeld rejoined the team in the last 5 races to replace Pedro de la Rosa. The car was designed by the team's technical director Willy Rampf. However, it was the year that Peter returned to save his team from liquidation.


The team had tough times collecting points from the first six races. After running a blank livery for the first four races of the 2010 season, until they had finally secured a sponsorship deal with the Burger King fast food franchise at the European Grands Prix. Peter Sauber admitted that his decision to rescue the team had been emotionally driven. However, the Japanese driver, Kobayashi puts on Sauber's face a big smile collecting the team's first championship point for the season when he finished 10th.
In 2016, Peter Sauber has retired from all functions in the team with Pascal Picci taking his position at the company as they have announced new owners (Longbow Finance S.A.) as they are the perfect partner to again make the team competitive and successful in Formula One.

In 2017, It's C36, the car has featured a blue and white livery with an additional stripe of gold, celebrating the team's 25-year anniversary in Formula One. It also featured a carbon-fibre shark fin, which returned to the sport since 2010. The team's drivers were Marcus Ericsson and Pascal Wehrlein. Wehrlein was replaced by Antonio Giovinazzi who made his debut in the FIA Formula One World Championship at the start of the 2017 Australian Grand Prix as a reserve driver for Sauber.
However, in the same year, it was confirmed that the first-ever female F1 team principal Monisha Kaltenborn would be stepping down from the team, Monisha has been a member of Sauber management board since 2001 and became the Swiss outfit's CEO in 2010, she owned a third of Sauber until 2016. Her role was replaced by former Renault team principal Frédéric Vasseur.

Alfa Romeo Partnership with Sauber (2018 - 2019)

It's the C37 for 2018 where it was revealed its new look 2018 Formula 1 car, which will carry a new red and white colour scheme as a result of its tie-up with Alfa Romeo. Yes, with Alfa Romeo (signed a multi-year technical and commercial partnership contract with the Italian outfit) and confirmed that they will end their engine deal with Ferrari and begin a new contract with Honda, but that was subsequently canceled. However, Sauber has confirmed their new multi-year agreement with Ferrari for up-to-date engines starting in 2018.

Charles Leclerc and Marcus Ericsson to become the drivers of the season and Tatiana Calderón to be promoted to the role of test driver who had been a development driver for the team from 2017.

It's 2019 and the Sauber name is no longer in F1, one of Formula One's most iconic names will not be on the grid in 2019 after Sauber confirmed they will be known as Alfa Romeo Racing this season. Meaning the term of the collaboration has been further extended, with the ownership and management of Sauber remaining unchanged and independent. As Alfa Romeo Racing, the goal continues to be the achievement of ambitious results at the pinnacle of motorsport. It was also announced that Kimi Räikkönen would be returning to drive for the team with his partner being Antonio Giovinazzi.

The first Barcelona test of 2019 went well for Alfa Romeo and certainly the original team founder, Peter Sauber, must have been pleased and proud of the F1 team which for so many years been his.

The question that still repeats in our mind is, will Sauber name come back again in F1 history or the season of 2018 was the last time we've witnessed in?